Travel & Expense Management
Whether you are the person who submits expenses, or the person who processes them, Travel and Expense management is sure to help you greatly, and save you a bunch of time, as well as the headache that is keeping track of receipts.
We have made it easy for you to start working with Travel & Expense Management on your own. On this site you will find explanations, how-tos, and more to support you in your daily work. To get an easy start, pick which role you serve at your company.
Solution overview
Travel and Expense Management is based on a few core concepts. This section described these concepts, as well as the relations between them. Some of these concepts require an understanding of how a few basic terms are used here. Some of these can be read below.
| Term | Explanation |
| --- | --- |
| Expense | A cost or charge paid for by an employee, on behalf of the company. |
| Mileage | Similar to an expense, but limited to traveling expenses, and typically measured in value per distance. |
| Approval | The process by which a superior at a company confirms that an expense is accepted. |
| Submitting | The action that an employee takes when an expense needs to progress to the person to must evaluate it. |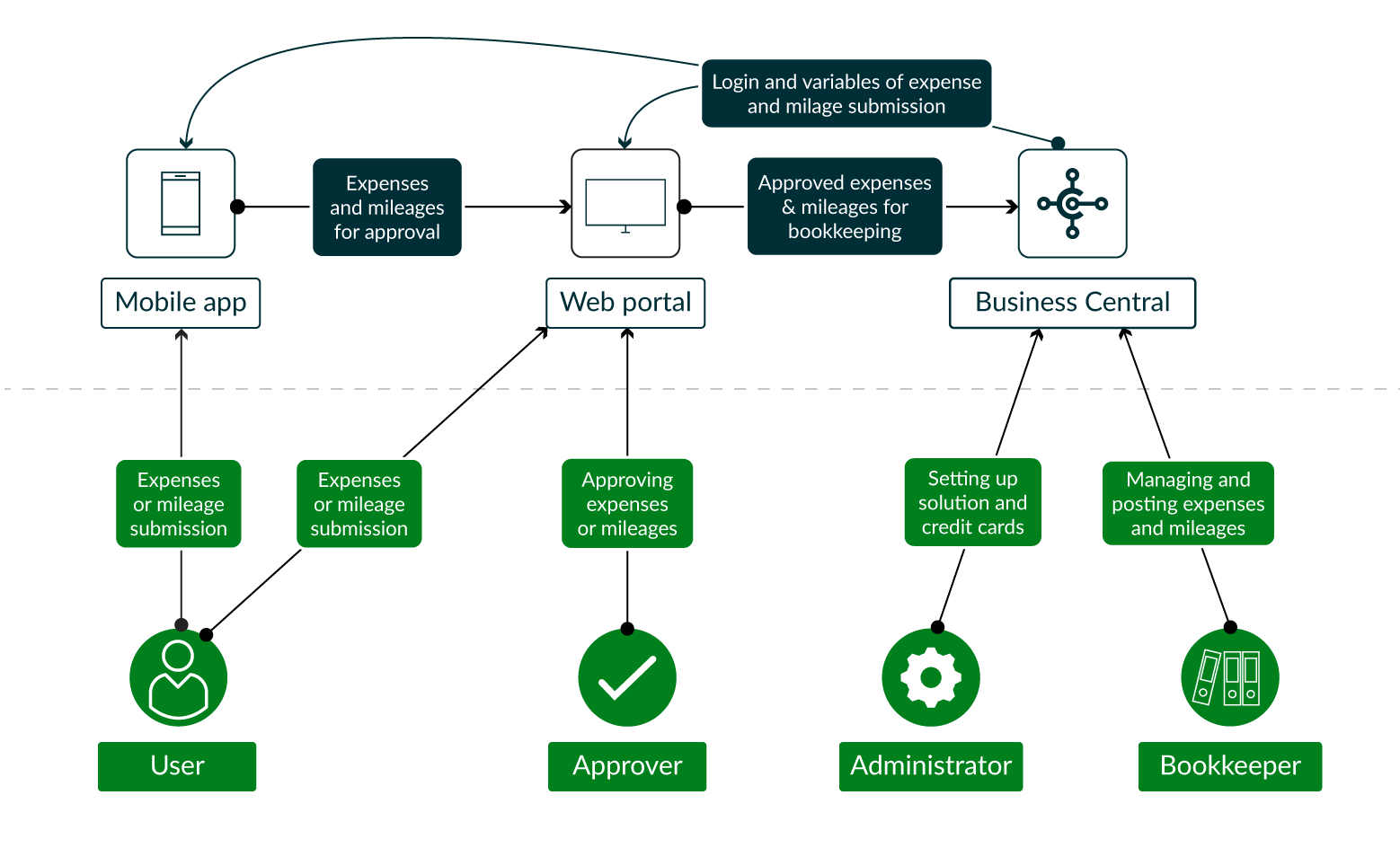 The solution has four types of actors, who engage with it through three portals. These are as seen above, with platforms in the top, and actors in the bottom.
The actors each have a role or four roles, indicated on the bubbles. You can read the descriptions of the roles in the 'roles' section.
You can learn about the platforms and how to apply their functionality in the 'Using the solution' section.
In the illustration, you can see how the user can submit expenses or mileages to either the mobile app or the web portal. After they do so, the approver receives note of this, and can choose to reject or approve of the expense from the web portal. If it is rejected, it is returned to the user in question, and if it is approved, it is sent to the bookkeeper by Business Central, where they can then post or manage each of the submitted expenses. The administrators role in this is administrative, and will primarily be in setting up the solution. The roles of the actors are not mutually exclusive, and therefore an approver can also be a user, and so can a bookkeeper.