Bookkeeper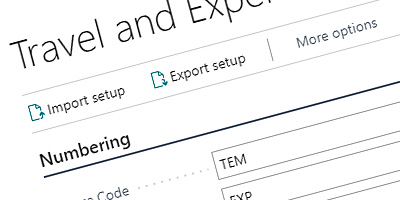 Travel and Expense Management will save the bookkeeper a significant amount of time. When an expense or mileage is submitted, it will have been pre-approved, and the task of the bookkeeper is to post the information received to the books and reimburse the expenditures if necessary. The bookkeeper is also left with the option to handle any credit card transactions or expenses that may have been wrongfully approved or input with insufficient or incorrect data. Aside from these tasks, the bookkeeper is also an important resource in setting up Travel and Expense Management properly, as the more thoroughly the setup is done in the beginning, the easier everything will be in the future.
To learn how to do the tasks assigned the bookkeeper in Travel & Expense Management, see the Business Central use section.
If you are interested in learning about the items that should be set up in the beginning, you can check them out here.
Feature list
| Feature | Description |
| --- | --- |
| Business Central integration | The solution is entirely integrated into, and accessible from Business Central |
| Set up your tax configurations just once | The solution allows you to set up a large number of configurations for both domestic and international scenarios |
| Post expenses and mileages | In just a few clicks you can post an approved expense or mileage |
| Export mileage reimbursements | With the solution, you can export posted mileages as XML files to trivialize reimbursement within your system |
| Splitting expenses | You can use this feature to split an expense submitted by one employee evenly over a number of employees, allowing for easy sharing |