Preparing for Business Central 2022 Wave 1 (BC20)
With the release of Business Central Online 2022 Wave 1, Microsoft is changing the way external systems connects to Business Central. This change affects your installation as your company uses either our Invoice Workflow or Travel&Expense Management apps in combination with the NORRIQ Online portal.
Until now, a Business Central user has been used with username/password known as Web Service Key. To enhance security, this will change the more secure OAuth authentication method, and this requires changing the configuration in Business Central.
It is very important to do this upgrade before upgrading to BC20 to ensure that your NORRIQ product keeps working without interruptions as the current way of integration will stop working with BC20.
NOTE: When you install the update, some modules will have a new name. Modules previously named as NORRIQ Online (like Logins) are now called AppsForDynamics365 to align with new services being launched soon. Steps to do BEFORE upgrading to Business Central 2022 Wave 1 (BC20)
1.1 Manually update Invoice Workflow or Travel&Expense Management
Since apps are not automatically updated, you – or your Partner - must manually go to Admin Center and make sure the latest version is installed.
Here is an example with Invoice Workflow.

When you click "Action required" to start the update, a popup wil show to tell you that some library modules will also be updated. Press "Update to the latest" to start the update process.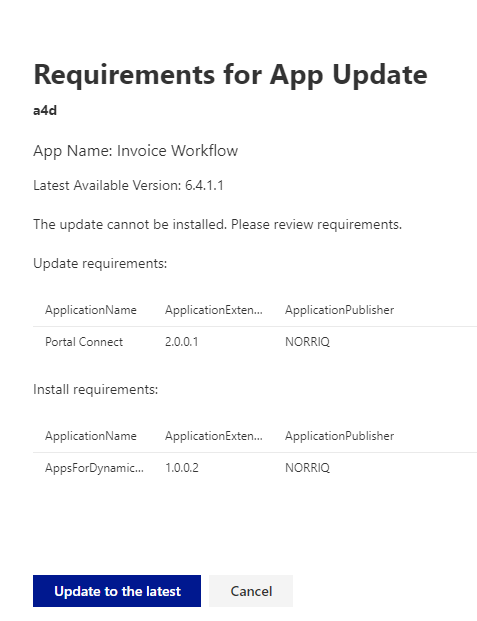 1.2 Run the configuration wizard
When you log in to Business Central after the update, you will get notification that you need to update the portal configuration. Depending on the role center you have assigned, the notifications can differ.


If you don't get a notification, search for "appsfordynamics configuration" in Business Central. Open the page "AppsForDynamics365 Portal Configuration" and click "Configure connection"

In few steps, the wizard will ensure that your Business Central is correctly configured for the NORRIQ Online/AppsForDynamics365 portal using the new security setup. Below is a brief description of each step. As each step is only shown "if needed", you might not have all the steps, depending on the current configuration in your Business Centra.
1.2.1 Verify license
Confirm the license information already in your setup.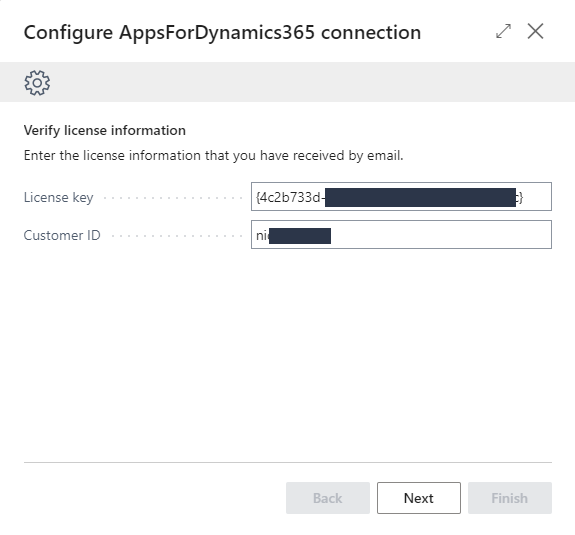 1.2.2 Give consent
Here you must grant consent to allow the AppsForDynamics365 (NORRIQ Online) portal and cloud services to access Business Central using web services. This step requires an Azure User that has administrative privileges in the Azure Active Directory (AAD), it is not enough to be an administrator of Business Central.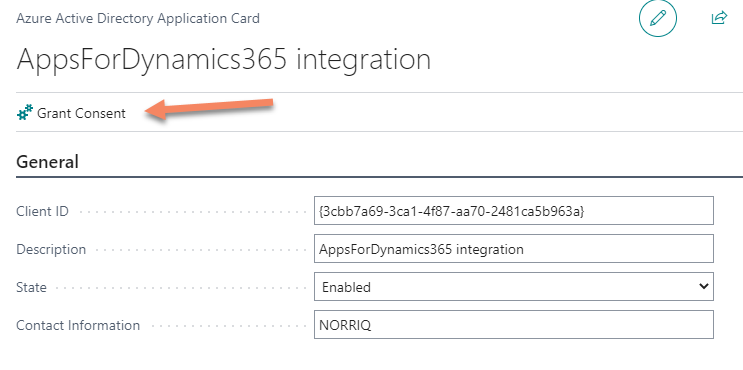 Clicking "Grant Consent" opens a window where the AAD administrator can login. The next step is to accept the permission to access Business Central using web services.
The grant only relates to the AppsForDynamics365 (NORRIQ Online) portal, not other services.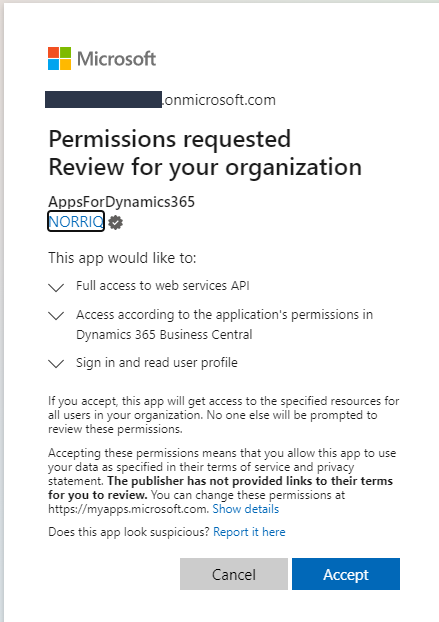 1.2.3 Register Business Central instance
This step will add your Business Central as a valid Business Central instance to the cloud services.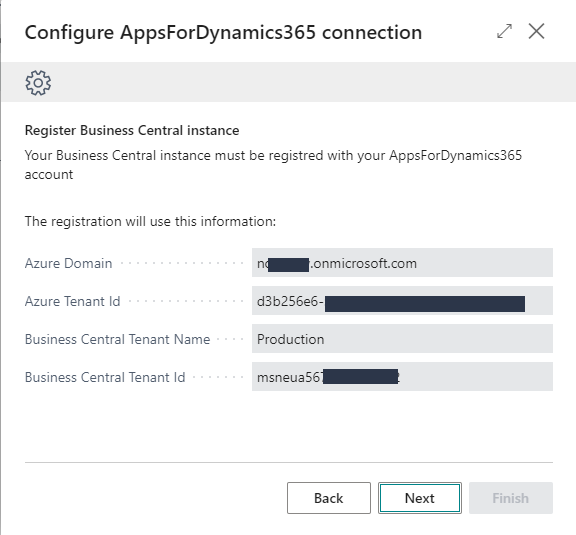 1.2.4 Select portal authentication
Specify how users must authenticate when logging on to the portal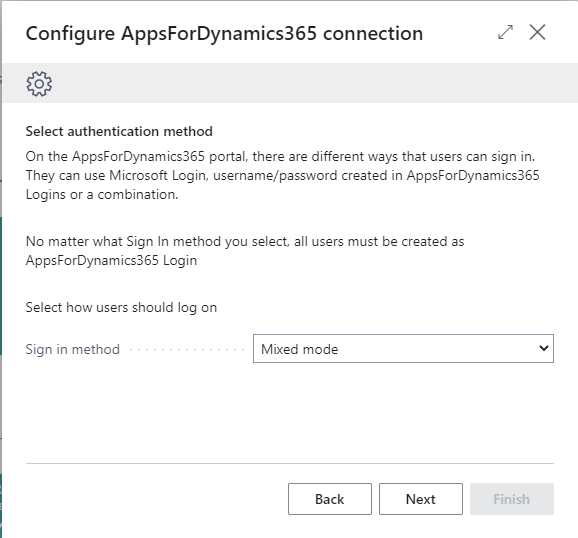 1.2.5 Activate the company
Each company that is used via the cloud services / portal must be activated. If you are using multiple companies, you will need to log into each company and complete the configuration.
1.2.6 Grant permissions for administrators
This is an optional step where you can select users and/or user groups, that have administrator permissions for the AppsForDynamics365 integration. These permissions are needed to change configuration or add new portal logins.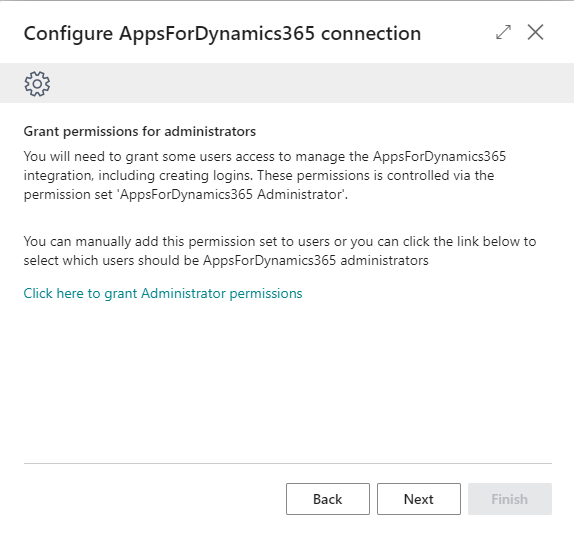 1.2.7 That's it!
Now your Business Central is configured to use the new OAuth authentication and you are ready to upgrade to Business Central 2022 wave 1.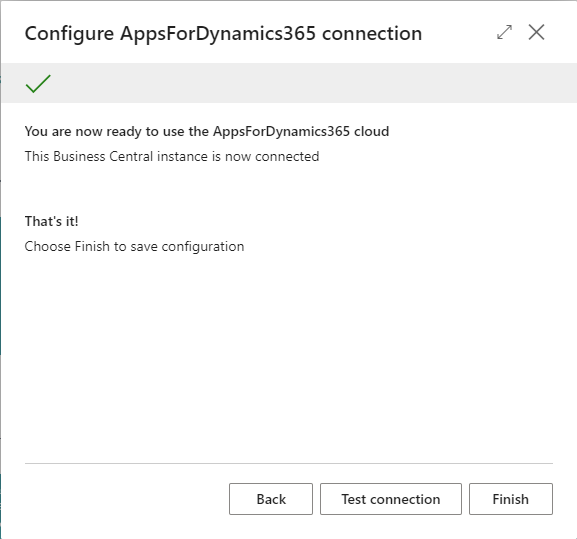 You can press the "Test connection" to ensure that the AppsForDynamics365 cloud services can access your Business Central.